Welcome to The California Skeet Shooting Association
California has varied landscapes from sandy ocean beaches to jagged shores, the deserts to the Sierra Nevada Mountains, Tahoe, Yosemite, the wine country, the Redwood Forests and the central valley. From anywhere in California you are only a few hours from a skeet field, and in most of California, the weather conditions allow shooting year round. Enjoy your scenic skeet journey!
State Shoot Sept 11-13
at Kern County Gun Club
The club will be open for practice, and registration will open Thursday approx.1 PM.
Friday – Sunday 7:30 to 2:00 Catering truck will be on site for breakfast and lunch.
There will be a Friday night social at the club following shootoffs.
CSSA Open meeting at the club following the social.
Saturday night dinner $20-.00 at the club on the patio.
Get Program
Get Enrollment Form
No registered skeet shoots in California in August
Please send copies of your pictures from any shoot to the webmaster.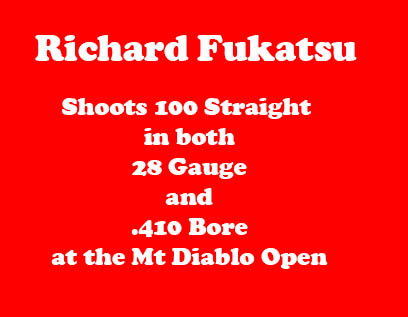 Jack Bernardi was Gun Champ with 389, but Richard Fukatsu stole the show with 100 straight in the 28 Ga and the 410 bore. It was reported that this is only the third 100 straight in 410 at USI.12 Ga Winners 20 Ga Winners 28 Ga Winners410 Bore Winners Doubles Winners...
read more