Bill Marble takes top honors with a 197 overall. He also wins both .410 events. Rob Mc Cormick is Runner-Up with 189.
410 Event-1 Winners
410 Event-2 Winners
HOA Winners
Score Summary


HOA winner Bill Marble, center, with Runner-Up Rob McCormick
and sponsor Jordon Hirschi from PSA West


Our Rookie shooter, Lola Fitzgerald. Lola wins D class champ in Event 2


Veteran and B class Champ Keith Phelps, Lady and Rookie Champ Lola Fitzgerald,
Al Morla B2 winner in both events, and Davy Lee AA2 winner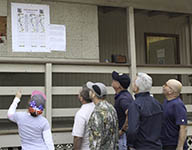 Scores are posted promptly for all


Pacific Sporting Arms West sponsored the prizes for this event.